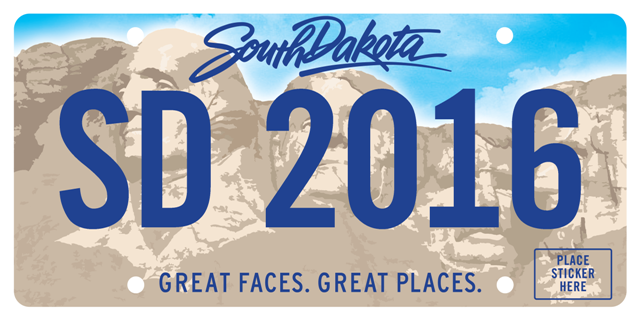 New 2016 South Dakota license plate design unveiled
PIERRE, S.D., — An image of the new license plate design for the 2016 license plate reissue was unveiled by the South Dakota Department of Revenue, Motor Vehicle Division.
The new license plates will be issued beginning January 1, 2016.
The standard license plates currently identifying South Dakota motor vehicles have been in use since 2006. The plates are losing reflectivity, becoming damaged and suffering other readability problems.
The 2016 reissue will add up to approximately 1.5 million non-commercial vehicle and motorcycle plates consisting of the standard plate, the emblem plate, personalized plates, amateur radio, low-speed vehicles and the commercial radio plate.
The design was a cooperative effort between Gov. Daugaard, the Department of Revenue Motor Vehicle Division and the South Dakota Department of Tourism and reflects a partnership in promoting South Dakota.
The license plates will continue to be made at Pheasantland Industries located in the South Dakota State Penitentiary in Sioux Falls, S.D.
Fall River & Oglala Lakota County residents can renew their annual motor vehicle registration at the Fall River & Oglala LakotaTreasurer's office in Hot Springs, at a self-service terminal (throughout the state) or from their Motor Vehicle customer portal at https://MySDCars.sd.gov.   Those who do so after Jan. 1, 2016, will receive the new license plates.
Fall River/Oglala Lakota County Treasurer – Kelli Rhoe (605) 745-5145