Archives for August 2023
The assessors have finished the 2023 summer reassessment.  See the summer reassessment page for further information and frequently asked questions.
The Fall River & Oglala Lakota County Courthouse in Hot Springs will be closed Monday, September 4th, in observance of Labor Day. Regular hours will resume Tuesday, September 5th.
The NWS Weather Forecast Office in Rapid City is making some changes to the Public Weather Forecast zones in our area. The purpose of these changes is to provide more accurate headlines for winter and non-precipitation hazards. These changes will go into effect September 19th. See NWS article for more information: https://www.weather.gov/unr/Public_Zone_Change2023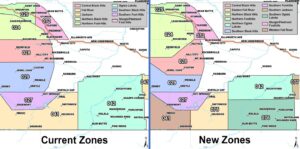 The assessors are back in the field this week after some interruptions due to weather and classes. The week of August 20th the assessors will be out on Tuesday and Thursday working routes west and north of Batesland.
See Summer Reassessment page for additional maps and frequently asked questions.